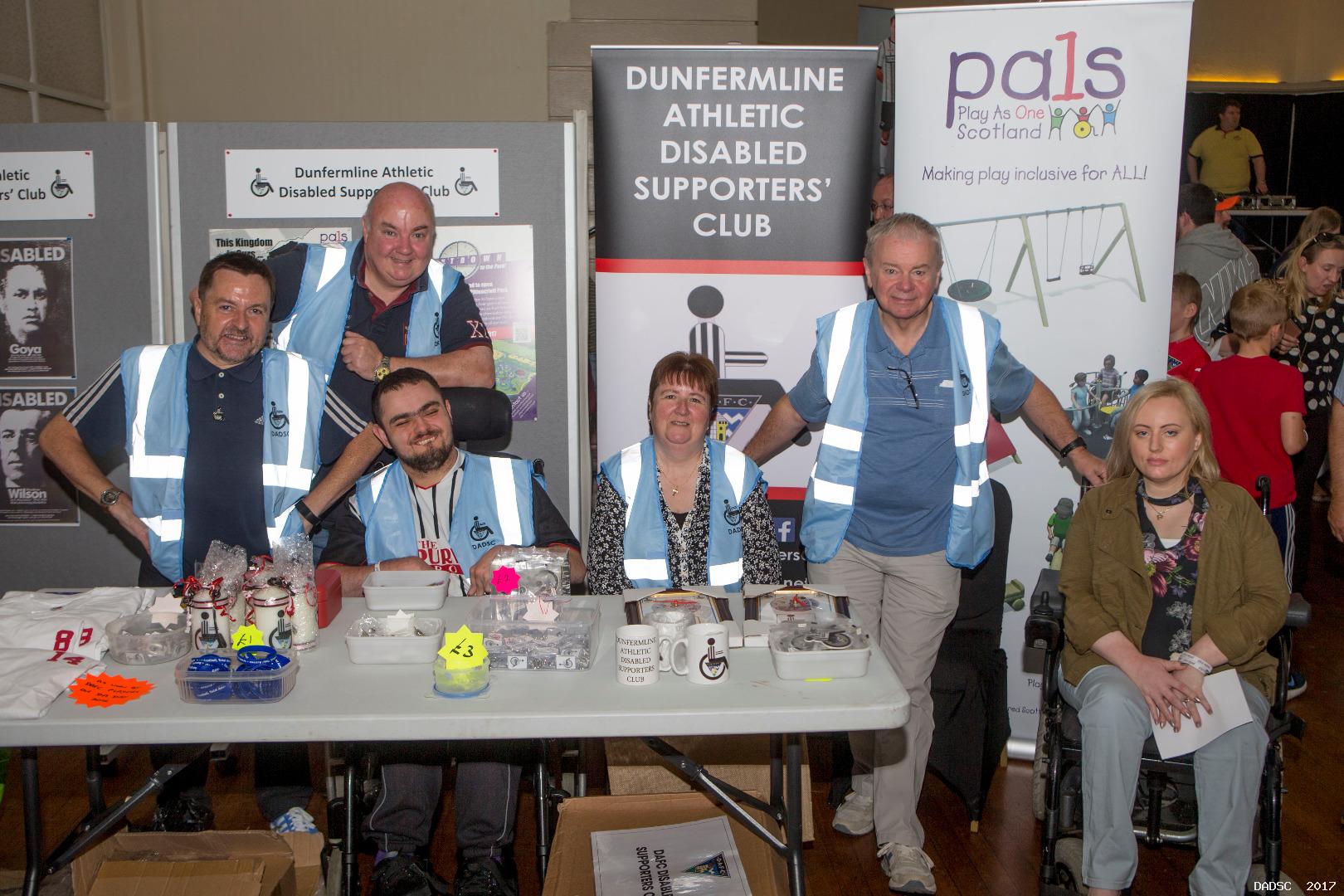 Welcome to the website for Dunfermline Athletic Disabled Supporters` Club (DADSC). Here you can find out information about DADSC and our work, some of our achievements to date and our ambitions for the future.

Read more
Please address any correspondence to:
Secretary
Dunfermline Athletic Disabled Supporters` Club
East End Park
Halbeath Road
Dunfermline
KY12 7RB

OR

Click HERE to send us a message by email.

OR

Use our Social Media pages:

Twitter

Facebook
Read more
DADSC is raising money for building work to allow wheelchair users, and those with mobility problems, to enjoy the facilities of the 1st Floor Function suites at EEP. We started in March 2016 with a target of £55,000, which was achieved in December 2022.
However, as costs have risen since 2016, DADSC now aims to raise a further £20,000 (£75,000 in total) to help achieve the desired solution - see the thermometer below.

Function Suite Access Fund
Powered By:
JustFundraising.com

Update Thermometer

_____________________________________


You can use online banking to donate to DADSC - the bank account is:
Sort code – 80-06-55
Account- 0602 8646
Please mark the payment "DONATION".

_____________________________________


You can also donate to the DADSC fund by credit or debit card:





_____________________________________


You can now use JustGiving to donate to DADSC:
https://checkout.justgiving.com/0ysxvbohqs



_____________________________________


You can also use text to donate from £1 to £10 to DADSC.*
To donate £1, text DADSC to 70201
To donate £3, text DADSC to 70331
To donate £5, text DADSC to 70970
To donate £10, text DADSC to 70191
If you want to donate more, you can do so online HERE




* Fundraising, payments and donations will be processed and administered by the National Funding Scheme (Charity No SC045106), operating as DONATE. Texts will be charged at your standard network rate. For Terms & Conditions, see www.easydonate.org




Search the site: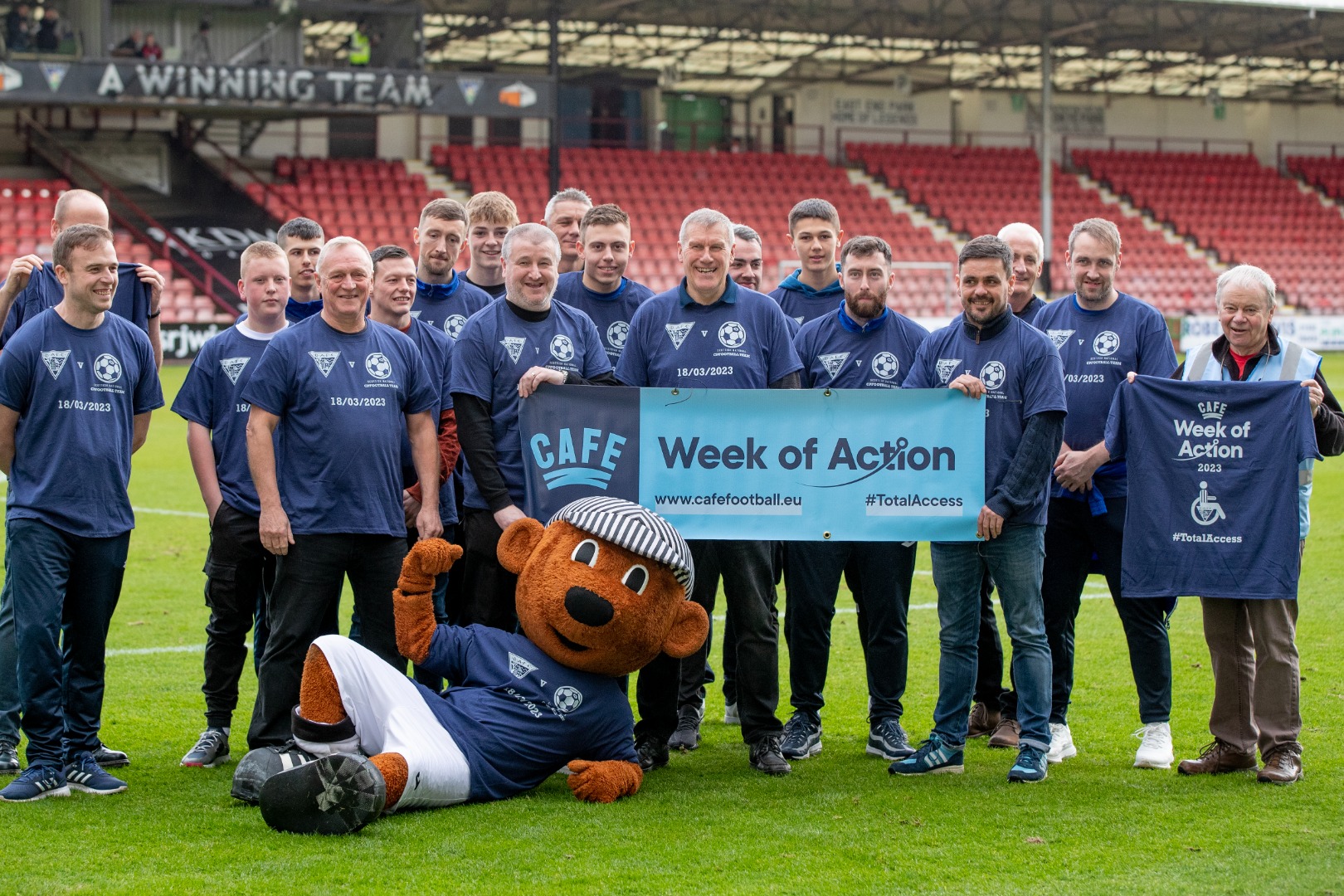 The DAFC v FC Edinburgh match on 18 March was the scene for celebrations of the 2023 Week of Action for CAFE (Centre for Access to Football in Europe).

A bucket collection and merchandise pop-up shop raised more than £800 for the DADSC 1st Floor Access Fund, 10-year old wheelchair user Calvin Early led out the Pars, and a 7-a-side match took place at half-time between the Scottish National Cerebral Palsy Team and a Pars Legends team that included Hamish French, Scott Thomson, John Watson and Andy Tod, shown in entirety in a video produced by ParsTV (click on "Read More" below).

There`s also a short video (click on "Read More" below) of the occasion, containing interviews with Graham Ross, DAFC`s Disability Access Officer, and Greig Taylor, Manager of the Scotland National CP Team.
Read more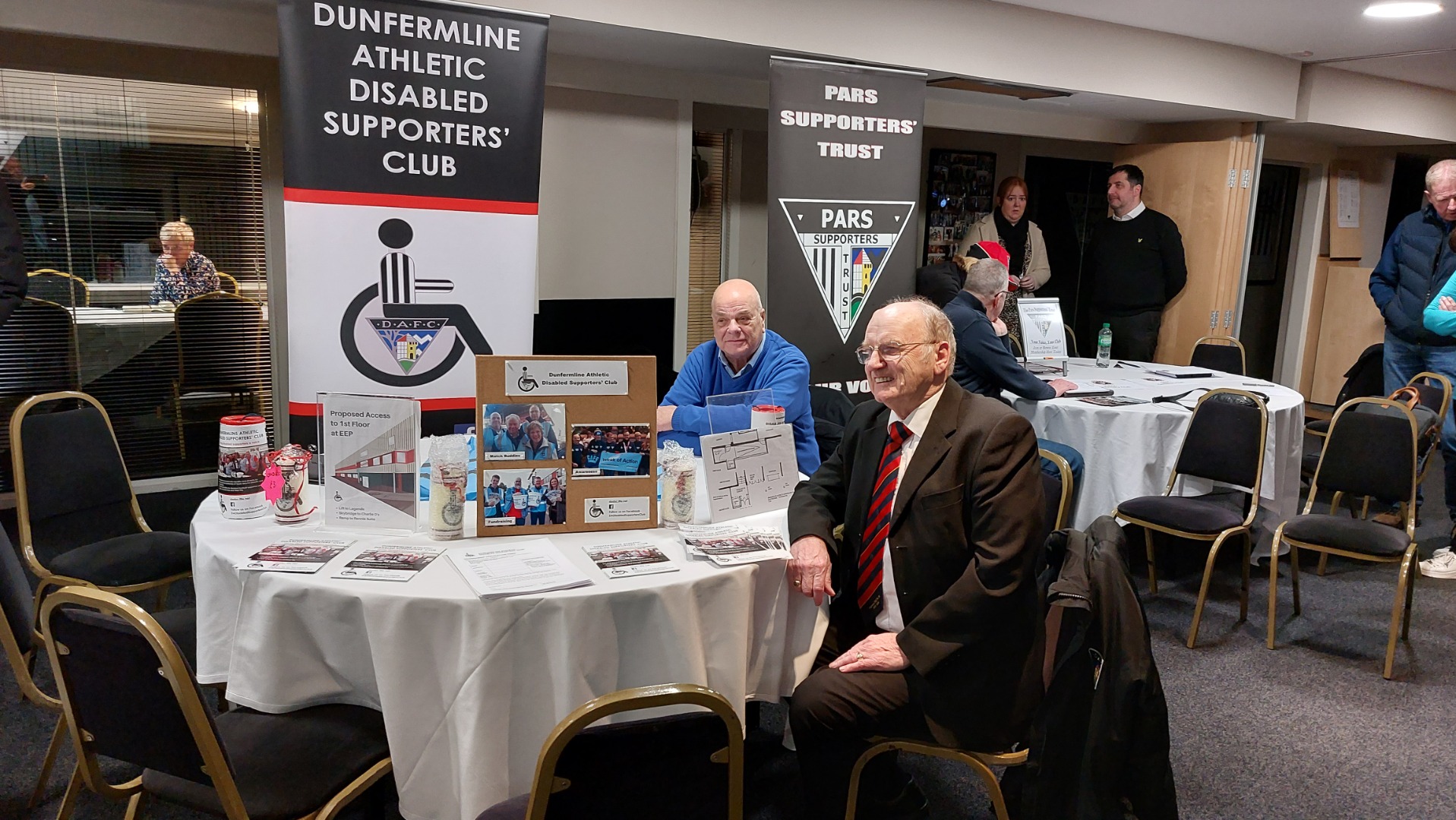 Along with several other groups in the Pars family, DADSC attended the "Play Your Part" event at East End Park, celebrating the work of volunteers and seeking to gain new ones. The picture shows Trustees Roger Hyde and David Laming at DADSC`s display table.
DADSC flyers were distributed to those who attended, and two new members were recruited.
Read more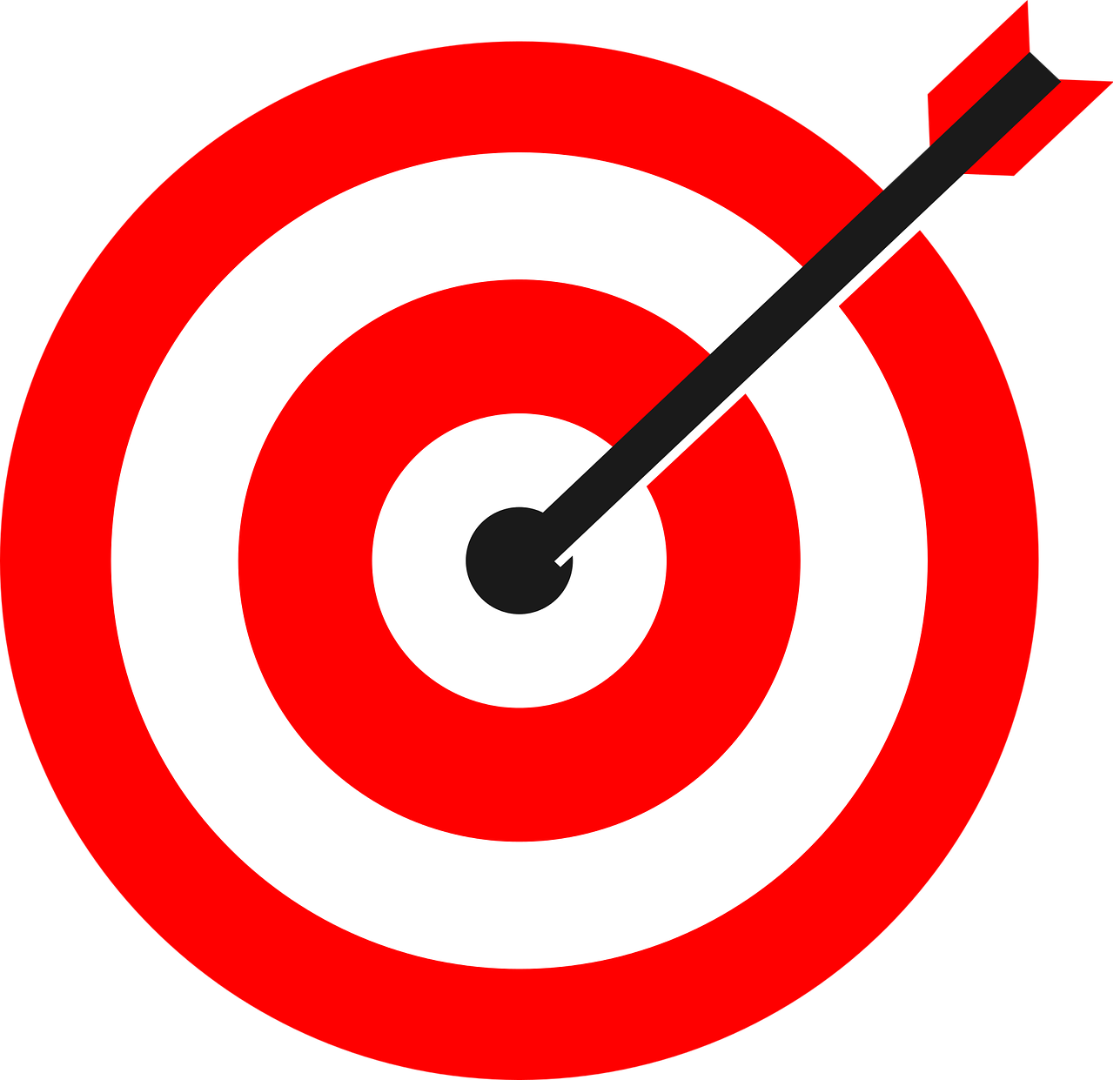 The DADSC fund to provide access for disabled fans to the EEP function suites has reached its first target of £55k, originally set in 2016. This remarkable achievement shows the determination, creativity and generosity of Pars supporters as well as of others in the community. Thank you to everyone who has contributed.
However, with the passage of time and current inflation even more money will be needed, so DADSC will continue to raise funds for the project, with a target of an additional £20,000.
Meantime we are working with DAFC Ltd and with Pars United EEP Ltd (the stadium owners) to find a solution that meets everyone`s needs. Please continue to support DADSC.
Read more